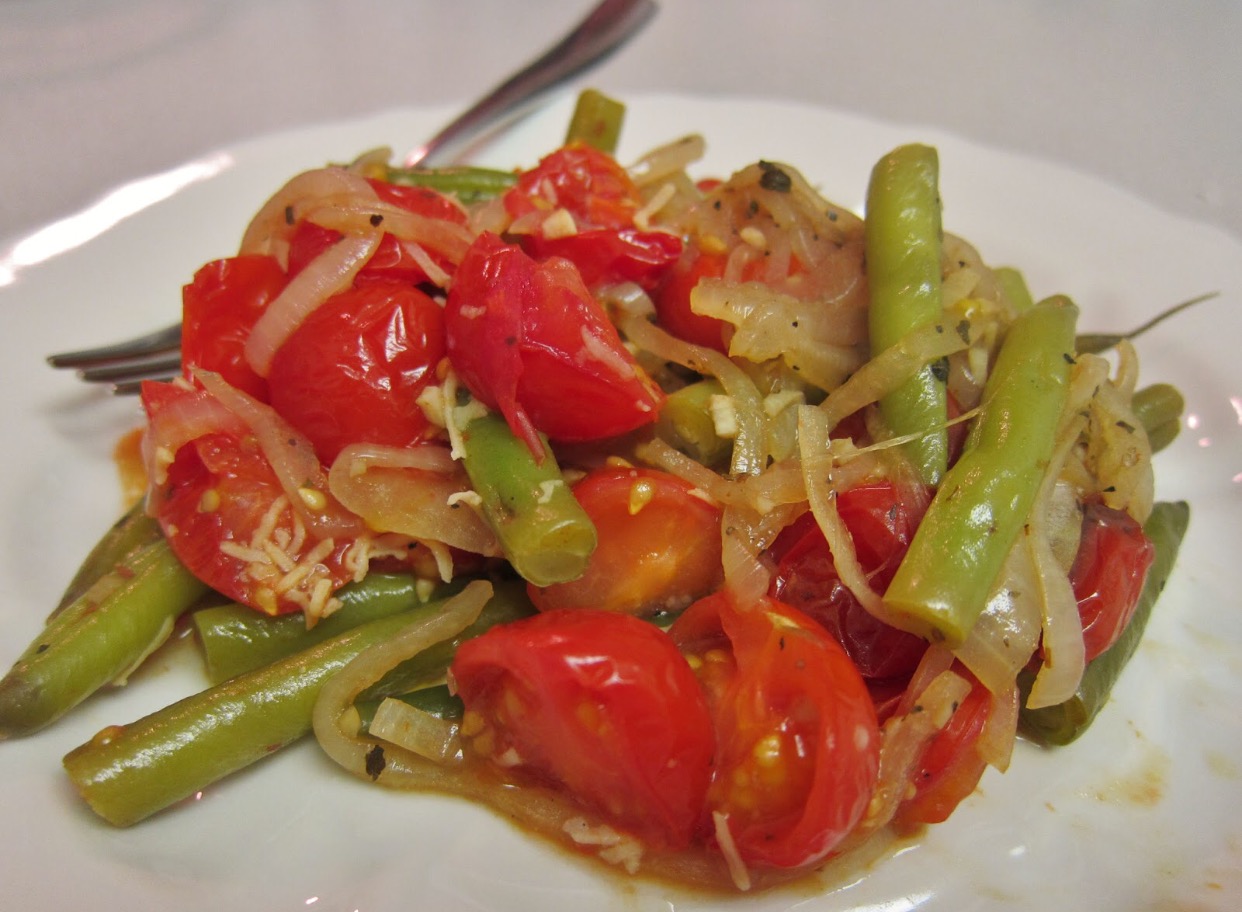 This healthier take on green bean casserole is fast and easy for big and small chefs alike. And, you can customize it to make it your own: just remove the cheese to make it vegan, or add some crumbled bacon to make it meaty!
Green bean & cherry tomato tian
Ingredients
5 cups (1-inch) cut green beans (about 1 pound)
Cooking spray
3 cups thinly sliced onion
6  garlic cloves, minced
2 teaspoons sugar
1/2 teaspoon salt
1/4 teaspoon black pepper
2 tablespoons balsamic vinegar
1 teaspoon dried basil
1/2 teaspoon dried oregano
4 cups cherry tomatoes, halved
1/4 cup (1 ounce) grated fresh Parmesan cheese
 Preparation
 Preheat oven to 400°.
Cook beans in boiling water 3 minutes. Drain and rinse under cold water; set aside.
Heat a nonstick skillet coated with cooking spray over medium-high heat. Add onion and next 4 ingredients (onion through pepper); saute 8 minutes or until lightly browned, stirring frequently. Stir in vinegar, basil, and oregano; cook 2 minutes. Remove from heat.
Arrange beans in an 11 x 7-inch baking dish coated with cooking spray. Top with onion mixture. Arrange tomatoes on top of onion mixture, and sprinkle with cheese.
Bake at 400° for 35 minutes or until the cheese is lightly browned.
****************************************************
Pumpkin cups
Easy-peasy and fun to make with the kids, these pumpkin cups use Greek yogurt and pumpkin to up the nutrition while maintaining great flavor!
Serving size: 24
Ingredients:
Package of wonton wrappers
1 (15 ounce) can pumpkin
1 cup honey-flavored greek yogurt
1-1/2 teaspoons pumpkin pie spice
1-1/2 cups whipped cream
Directions:
Preheat oven to 350 degrees F. and spray 2 muffin pans with cooking spray.
Let your kids press a wonton wrapper into each muffin cup. Spray with cooking spray. Bake for 5 to 7 minutes or until wonton wrappers are crisp and lightly browned. Transfer to a wire rack to cool.
In a large mixing bowl, beat or whisk pumpkin, yogurt and pumpkin pie spice together until well-blended.
Place the wonton cups on a serving platter. Let the kids fill each cup with the pumpkin mixture, top with a dollop of whipped cream and sprinkle with grated chocolate if desired. Serve immediately.
As always, please let us know how yours turned out! Share your photos, thoughts and ideas with us @TastefulManners everywhere social.