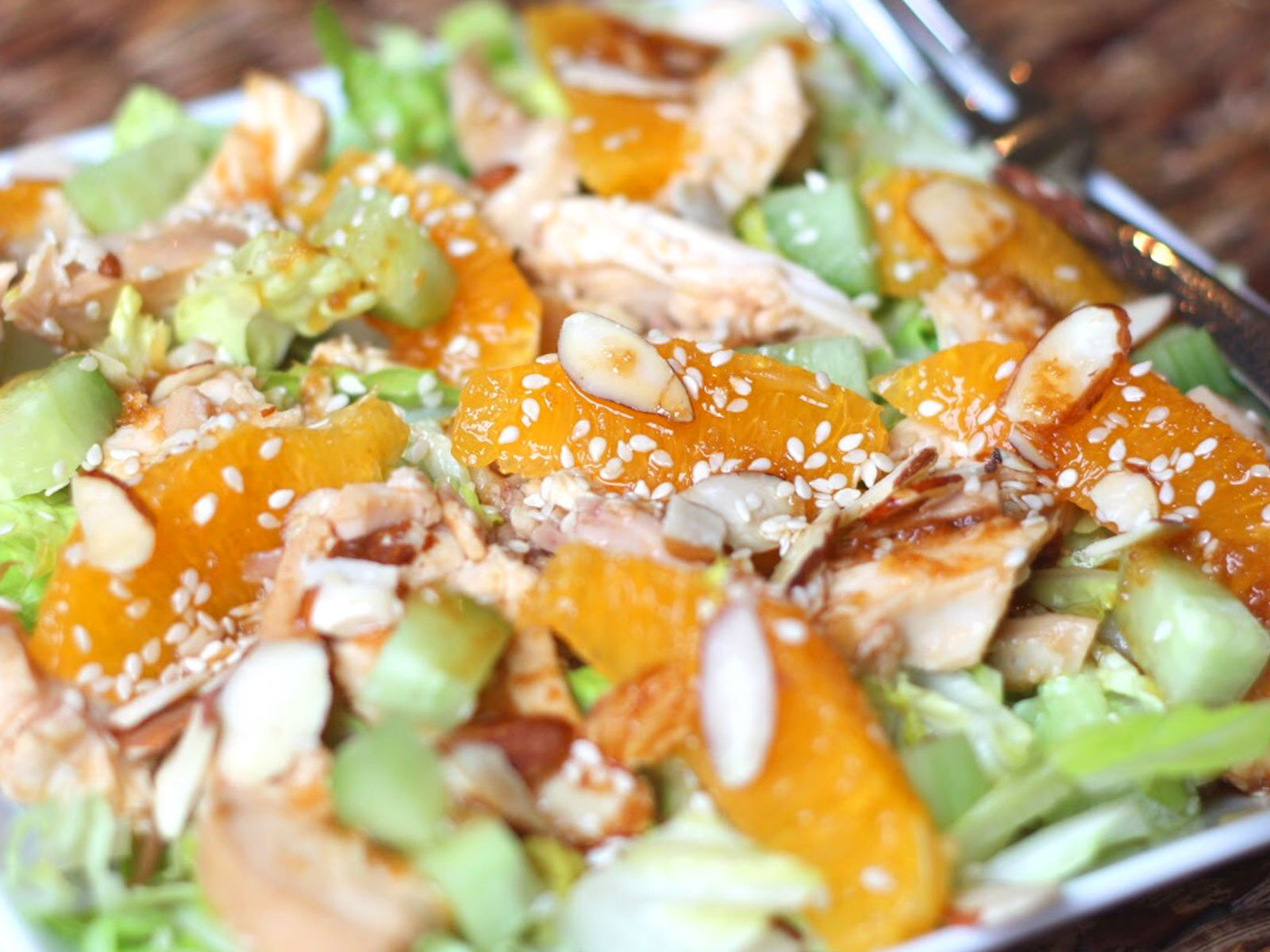 SALAD Ingredients:
1-2 teaspoons olive oil
4 cups romaine lettuce, or other crisp lettuce, thinly sliced or choppped
6 cups Napa cabbage, or Savoy cabbage, thinly sliced
3 cups cooked chicken, chopped or very thinly sliced
1 medium cucumber, peeled and cut into thin bite size pieces
2 navel oranges, peeled and cut into bite size pieces or 8 oz can of mandarin oranges
1/4 cup sliced almonds, toasted
1 tablespoon sesame seeds, toasted
DRESSING Ingredients:
2 teaspoons fresh ginger, minced or grated
2 tablespoons brown sugar
1 1/2 teaspoons hot chili sauce
2 tablespoons rice wine vinegar
2 tablespoons soy sauce
1 scant tablespoon toasted sesame oil
2 tablespoons light flavored olive oil
Whisk together the dressing ingredients and then set aside. Heat an empty large frying pan over medium low heat and toast the sesame seeds. Remove to a separate dish and set aside when lightly browned. Toast the almonds next, tossing them frequently until they are browned as well.
Add just a drizzle of oil to the pan and saute the cabbage just a few minutes, until it is barely wilted and still crisp. It will turn a brighter green color. Remove to a large bowl and toss with tongs to cool it a bit. (Otherwise, it will continue to cook a bit more in the bowl.) In a separate bowl, toss the chopped chicken with a small amount of dressing to coat it lightly.
Add the chicken to the bowl with the cabbage, along with the lettuce, cucumber and oranges. Drizzle with dressing and then toss well to coat everything. Sprinkle with sesame seeds and almonds just before serving.